New York Style- Plant-Based Cheesecake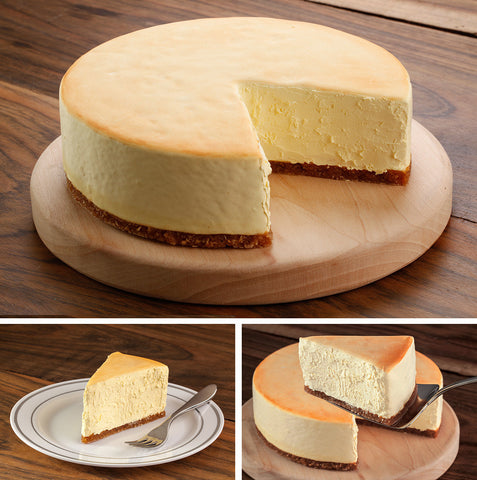 SAME TASTE AS REGULAR CHEESECAKE
"We taste-tested non-vegan and non-lactose intolerant consumers.  They could not tell the difference between our dairy-free cheesecake and regular cheesecake.  Our Italian bakery will still provide that rich creamy filling with the golden brown graham cracker bottom."
$49.95

Serves 12

---
TESTIMONIALS
"I love cheesecake. My friend gave me a slice without telling me that it was vegan. About an hour later I learned that it was. I was surprised that it tasted so good." - Marvin
"I've been lactose intolerant for years. I can't eat most desserts. But I can enjoy this. Thanks guys!" - Steve
Click to see more customer testimonials and professional reviews.
---
We've been busy reaching out to the community. Did you catch us on?





What makes Sirabella's Vegan Cheesecake unique?
Sirabella's Vegan Cheesecake is a New York style cheesecake that uses 100% vegan ingredients (dairy free and eggless). As founders, one of us is Vegan and the other is Lactose Intolerant. We know what it is like to miss out at holiday parties and family gatherings when others are salivating over a scrumptious cheesecake. Our goal is to provide the same level of satisfaction and joy to the Vegan, Lactose Intolerant, Egg Allergic/High Cholesterol, and health conscious communities. It's important to us that you enjoy those occasions with a delicious vegan cheesecake that still lets you hold onto your values and health.
We use only the finest ingredients. Our vegan cheesecakes have a signature golden brown crumb bottom. The texture is thick and creamy. The combination of these factors make a genuine, one of a kind delicious vegan cheesecake.
Order now to get your gourmet vegan cheesecake delivered to your door. When you buy our delicious product, all mail orders are specially packaged to maintain its freshness and ready for you to enjoy. Nationwide delivery is available.
Coupons:
Only one coupon/discount code can be used at a time. The percentage off only applies to the product and not the shipping costs. The buy one get the second cake for 30% off deal can be used with any combination of cakes. However, the second cake's discounted value will be based off of the price of one plain New York style cheesecake.